During the month of December there is an increase in the number of social events we are invited to, as well as an increase in things that we feel have to get done. As a result, stress increases and increased stress can disrupt your hormones and make you feel tired and irritable.You may need your Progesterone and Testosterone doses adjusted during this time period. There are also some things that you can do to help.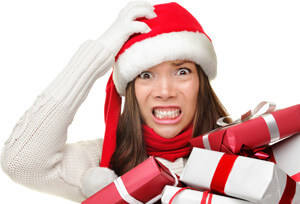 Most importantly schedule time for you on a regular basis. Schedule it in like you would a doctor's appointment–you are more likely to do it. Schedule time to unplug and relax doing something that you enjoy doing–it can be anything as long as it is rejuvenating to you. In addition, stop for a minute throughout the day and take slow deep breaths. Do this whenever you can.
Pick a time that you turn off your phone every night and pick a day (or at least a half day) that you spend with the phone and computer off. You do not have to be accessible to everyone every minute. It is important for your mind to have time away from your phone and computer on a daily basis.
Step back and look at the sky every day. It only takes a minute or two but it puts your life in perspective. Focus on the things that you want to do and say no to the things that drain your energy.
Happy holidays!!